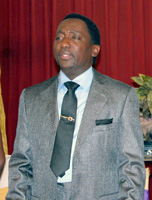 Bishop Samuel Ohene Antiri
General Overseer
Bishop Samuel O Antiri hail from Ghana. Prior to his calling into full time ministry, he was a very active member of the youth department at the evangel Assembly of God of Kojo Thompson Road, Adabraka in Accra. He attended the Southern Ghana Bible Institute at Saltpond 1984. He pastors the Hope assembly of God from December 1986 to October 1989, where he pioneered the exhibition assembly of God at Dansoman in Accra. He also established the Mount Calvary assembly of God at Laterbiokoshie in Accra. He was the first Ghanaian pastor from the Assemblies of God to be sent to the Netherlands as missionary.
His passion for souls led to establish Churches in Rotterdam, Breda, Dordrecht, Eindhoven and Roermond. He has been a vessel that the Lord has used to empower thousands of African in the Diasporas. He is a conference speaker. He has travelled extensively as an evangelist and a revivalist to Israel, Singapore, South Korea, Canada, Nigeria, Spain and the USA. He is the senior pastor and the general overseer of the POTTERS HAND, COVENANT WORD INT MINISTRIES.
He is married and is blessed with four lovely children, three daughters and one son.